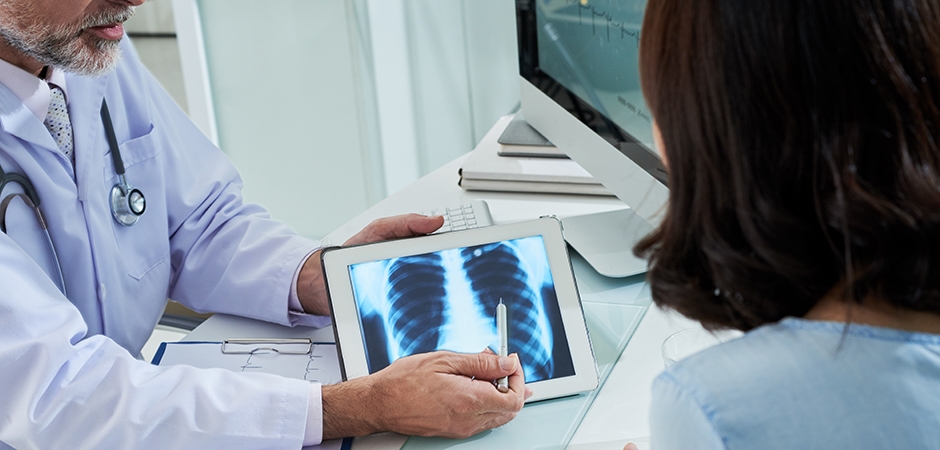 The UT Health East Texas lung nodule program was designed to gather a multidisciplinary team to provide expert evaluation, early diagnosis and timely treatment of nodules detected in the lung.
Our healthcare specialists use evidence-based guidelines in their evaluations, which are customized for each patient. We provide specialized and coordinated patient care that results in improved clinical outcomes.
Lung nodules should be tested
All lung nodules should be evaluated to determine if the mass is cancer, represents a precancerous condition or may be cancer spreading from another part of the body.
Most nodules are not cancerous and can be traced to a number of benign conditions, including infections or scars. The nodule may have been in the lung for years without causing any symptoms. Initial evaluations may include:
Diagnostic imaging
Breathing test
Evaluation by a lung specialist
Plan for follow-up monitoring
Some patients may receive a periodic series of CT scans to monitor a growing nodule, which may indicate a possible cancer. The physician will take into account whether the patient is at higher risk for lung cancer.
Customized treatment
Each patient in the program receives optimal, customized treatment based on thorough examination by the UT Health East Texas multidisciplinary team of specialists. Patients are offered access to the latest clinical trials.
This program is designed to simplify the process for the patient, eliminating unnecessary office visits and duplicated procedures, while ensuring timely follow-up and optimal care.
UT Health East Texas Pulmonary Institute multidisciplinary team
Experts from the UT Health East Texas Pulmonary Institute include diagnostic radiology, diagnostic pathology, medical oncology, thoracic surgery and radiation oncology. These experts collaborate to create the patient's individualized care plan.
Hallmarks of the UT Health East Texas Lung Nodule Program:
Prompt scheduling of initial visit.
On-site CT scanning with same-day interpretation.
Timely assessment, diagnosis and recommendations.
Management of follow-up visits.
Coordination of care with multiple specialists.
Ongoing communication with referring physician.
Patient education.
To learn more or schedule an appointment, call:
UT Health East Texas Pulmonary Institute at S. Fleishel - A department of UT Health Tyler at 903-592-6901
UT Health East Texas Pulmonary Institute at North Campus Tyler at 903-877-7916