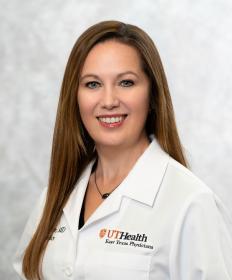 4.5 out of 5
Physician Group:
UT Health East Texas Physicians
Sarah Tyner, MD, is a board-certified pediatrician who practices at UT Health East Texas Physicians in Jacksonville. "There are always medical advancements on the forefront, and I like learning new things that will help my patients."
Dr. Tyner advocates for regularly scheduled immunizations and health checks that help her patients lead a healthy life. "When you work with children, you know you're going to make a difference in their lives, and that's rewarding."
Building relationships is key to good healthcare, according to Dr. Tyner. "It's important parents know their doctor, and the doctor in turn know their children and what is normal and not normal for them."
Board Certifications:
American Board of Pediatrics, Board Certification
Education:
Pediatric Residency: Chief Resident, Children's Memorial Hermann Hospital, University of Texas Medical School at Houston
Doctor of Medicine: Texas Tech University School of Medicine, Lubbock
Bachelor of Science: Biomedical Sciences, Texas A&M University, College Station
American Academy of Pediatrics, Member
Texas Medical Association, Member
Texas A&M University, Cum Laude Graduate