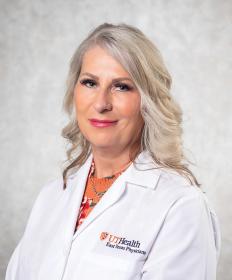 Practices At:
203 Nacogdoches St.
Ste. 280
Hours:
Monday - Friday
8 a.m. - 5 p.m.
Birgit Grubbs, MSN, APRN, FNP-C, is a family nurse practitioner at UT Health East Texas Physicians in Jacksonville. She has a special interest in family medicine because it allows her to treat all ages and not be limited to a practice specialty. Her goal is to provide individualized care to her patients by acknowledging their unique situations, educating them and their families and providing unconditionally compassionate, high-quality care.
"I got into healthcare 28 years ago because I wanted to help others and I felt this could best be served in the hospital setting working at the bedside," she said. "One of my greatest rewards is listening to my patients and helping them work through their fears, praying with them and helping them as they try to cope with their illness, being in the hospital away from family."
Birgit is an avid Dallas Cowboys fan and in her spare time loves to travel, go camping and spend time with her children and grandchildren.
Board Certifications:
American Association of Nurse Practitioners, Board Certification
Education:
Master of Science: Nursing, The University of Texas at Tyler
Bachelor of Science: Nursing, The University of Texas at Tyler
Associate of Applied Science: Nursing, Texarkana College
East Texas Nurse Practitioner Association, Member